Services
Management System Certification
---
Management System Trainings
RSI is accredited by Global Euro Accreditation Centre for Personnel Trainings and Certifications as per ISO 17024. RIS offers following courses: Lead Auditor Course (QMS / EMS / FSMS / OHS / ISMS) Internal Auditor Course ((QMS / EMS / FSMS / OHS / ISMS)
---
Sample Training Certificates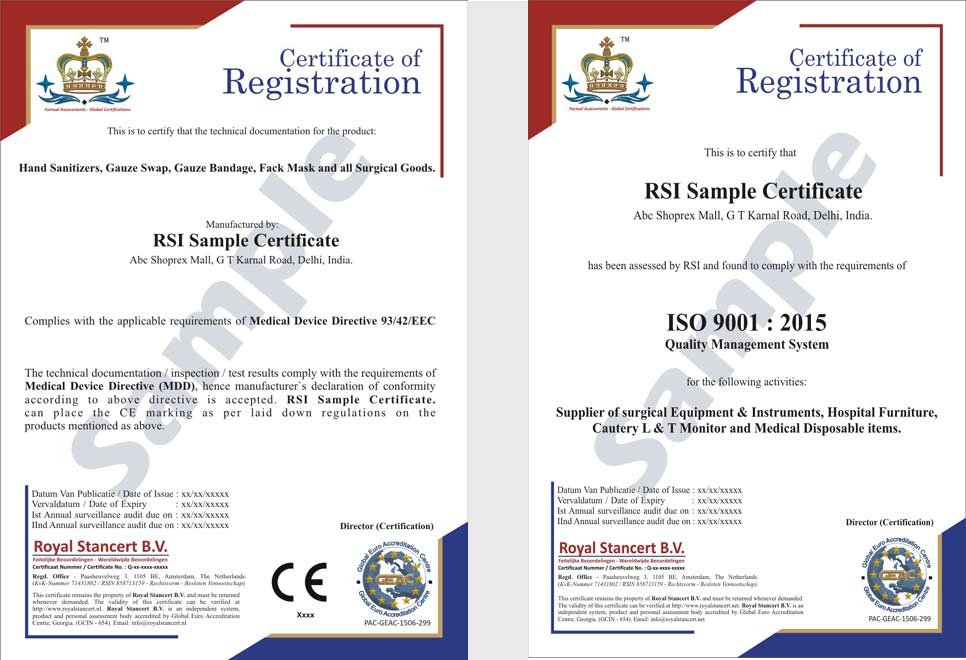 Third party inspection services
RSI's Industrial Services is true global provider of Technical Inspection, Verification, Testing and Conformity Assessment for Industrial Markets. The core values of complete independence, transparency and integrity guide us in our mission to deliver first-class services on a constant high quality level to customers around the world. Our Teams of Engineers ensure that the quality and performance of products or installations meet applicable requirements, whether they are regulatory, voluntary or client specific. We help to improve the integrity, quality and efficiency of equipment, assure safe and health working conditions for employees and minimize the environmental impact of industrial activities.
Our Services are divided into:
• In-Process Inspection • Statutory and Voluntary Inspections • Material Testing and Non-Destructive Testing • Product Certification RSI Industrial Services offers a combination of specialized solutions and traditional services. During all stages, from Design through Procurement, Construction and Commissioning into Operation, RSI offers a comprehensive package of integrated services. RSI expertise extends to all major Industrial Markets. Special focused markets include:
Oil & Gas Industry:
RSI global experience in the Oil and Gas Industries include Process Plants and Refineries, Chemical Plants, Offshore Structure, NGL, LPG and LNG Plants, Gas gathering, Storage and Distribution System as well as Oil and Gas Transmission Pipelines.
Our Services Overview:
• Design Appraisal and Verification • Certification • Document Verification • Electrical Equipment Verification / Inspection • Electrical Installations, Inspection & Verification • ASME (American Society of Mechanical Engineers) Inspection • ASME Authorized Inspection Agency • ASME Certification and Stamping • Certification according to API • ATEX Notified Body Services • Authorized Inspection Agency for Indian Boiler Regulation • Authorized Inspection Agency for Petroleum "PESO" • CE Marking • Factory Acceptance Test • PED Inspection and Audits • Evaluation of Second Hand (used) Machinery • Welding Inspection
Inspection and expediting
Inspection is carried out in accordance to the rules and guidelines laid down by various Indian and international regulatory bodies such as: ISI, ASTM, ANSI, TEMA, ASME, API, DIN, EC, JIS, etc. Our state-of-the-art testing procedures and expertise of our highly qualified personnel allow detection of the defects at an early stage, thus saving time, energy and money.
RSI's services
RSI offers a wide range of services covering all aspects of inspection. Our services include: • Vendor assessment and pre-qualification for project procurement • Engineering design review • Shop and site inspection involving stage and final inspection • Witnessing performance tests • Pre-shipment inspection • Qualification of welding procedures and welders • NDT personnel qualification • Certification of materials and welding consumables • Health assessment of the plant • Piping and machinery • Periodic inspection of lifting equipment • Process piping and inspection during plant turnaround • Assessment of corrosion and erosion of the plant
RSI Netherlands caters to the following industries:
• Oil and gas, power generation and distribution • Water treatment and distribution • Pipelines • Refineries • Chemicals and petrochemicals • Fertilizers • Pharmaceuticals • Machinery • Infrastructure • Telecom • Transportation
---
PRODUCT CERTIFICATION CE Marking: Passport for entry in Europe Our product certifications are intended to facilitate the strategic positioning of your products on the European markets. Our product certifications services are intended to facilitate the strategic positioning of your products on the European markets. RSI with its vast experience and international network can help you achieve your goals. RSI provides testing and certification for the CE mark of the European Union. Standing for the French Conformité Européenne, the CE mark has become the passport for product groups wishing to enter the European market. RSI will assist your company to achieve compliance testing in a domain regulated by EC directives (Low-voltage directive, toys directive, machinery directive, EMC directive etc.). Within the framework of the CE mark we are therefore able to offer all the requisite services on a one-stop basis. The necessary areas of the CE conformity assessment include the following • Type approval testing • Compatibility tests (electromagnetic, biological compatibility etc.) • Safety tests in our own testing laboratories • Examination of product design • Preparation of expert appraisal reports • Certification of quality systems We assist companies as early as the development stage of new products by answering all questions related to the application of regulations, occupational safety and health provisions connected with the safety of equipment.